Pushpin maps by destination
Hello we're Bee Happy Art...
and we're here to help you find the perfect gift for that upcoming special occasion... or just something nice for yourself!
We create personalised prints and offer them on a choice of 4 fabrics so there's a style to suit any décor (and no excuses not to buy one). They make wonderfully thoughtful gifts for many of life's important moments such as weddings, engagements, birthdays and anniversaries - in particular 2 years (cotton) and 4 years (linen).
A fabric print is a unique keepsake and a rustic addition to any household - they also make really great presents for those hard to buy for people! We hope you find something you like and if you have any questions please get in touch:  info@beehappyart.co.uk
We would love to hear from you :)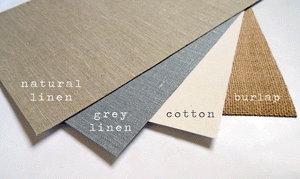 Four fabrics to choose from...
We print onto 100% natural fabrics: grey linen, natural linen, off white cotton and burlap sourced locally and (very lovingly) prepared and printed by us in our home studio.
Good to know: all of our prints are available on both linens and cotton, however we do not offer all designs on the burlap... we find some of the detail gets lost in the coarser fabric and we insist on each print being perfect. Read on to discover some of our most loved items...
Stickman Family Prints
Family portraits personalised with children's heights, hair styles, beard, glasses, pram... we even include the family pets!
A bespoke piece of handmade art capturing a snapshot in time of the whole family and something to treasure for years to come. 
Stickman Prints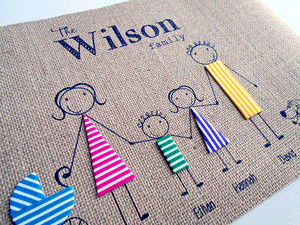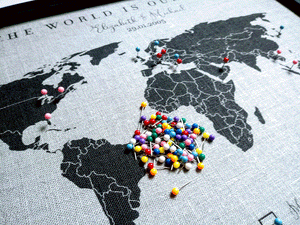 Pushpin Maps
We created a handful of world pushpin maps and initially offered them on the linen fabrics... they proved so popular we now also produce them on the cotton and have added another ten destinations to the collection (this number is set to rise!)
All of our maps include a black or white frame and 100 mixed colour map pins to get you started.
Pushpin Maps
Timelines
Our timeline prints make stunningly meaningful gifts and can include up to twelve of your most memorable moments.
Available on cotton or linen they are one of our most popular anniversary gifts and are always a hit with the recipient (but don't take our word for it, check out the reviews!) PS: we always send a sample so you can double check your dates prior to going to print ;)
Timelines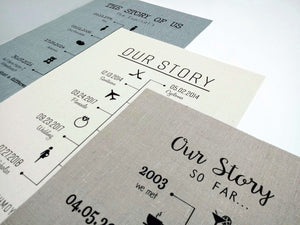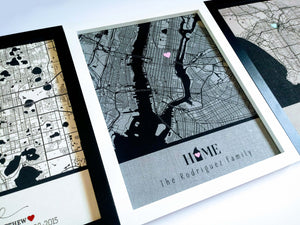 Line Maps
Calling all fellow map lovers! Our newest range (and a personal favourite) of captivating line maps is here, where the art is in the make up of the streets, waterways and surrounding area.
With your special location pinpointed in a choice of (ten!) colours, a choice of three fabrics and two frame colours... you can find the perfect combination for your space.  
Line Maps
Need gift wrap?
Just let us know! We would love to include a gift note and wrap your parcel as lovely as one of these beauties.... (at no aditional cost)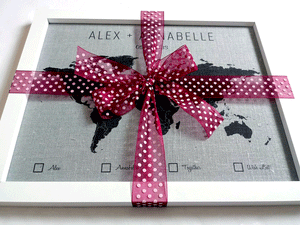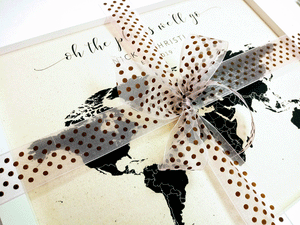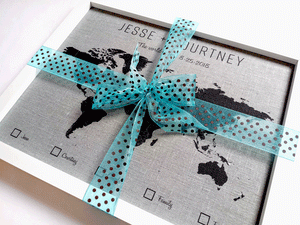 Small print disclaimer: We LOVE to experiment with new gift wrap options (and indulge in our obsession with ribbon and twine) so the appearance of your gift may differ from the above photos. We guarantee it will however, be equally as beautiful.